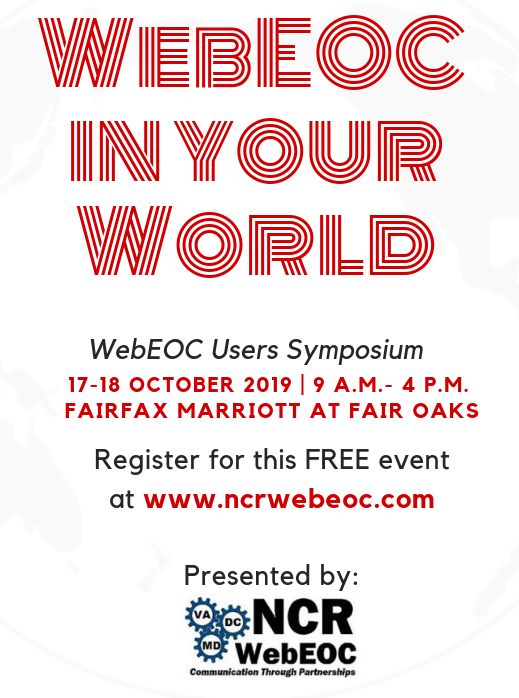 Call For Speakers Registration Form Hotel Registration
Day 1 – Thursday, October 17th 2019
Breakfast: 7:30am – 8:30am
Registration/Check In: 8am – 9am
Welcome/Intro:

9am – 9:15am

| Joe Dame – Loudoun County OEM, Assistant Coordinator
Keynote: 9:15am – 10am |
Steven J. Hausman, Ph.D. – "Disruption for Emergency Management"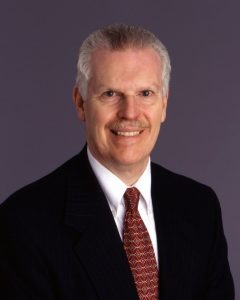 Dr. Steven J. Hausman, following his 31 year career at the National Institutes of Health (NIH) as a scientist and senior executive, is currently a technology consultant and professional speaker on emerging technologies that include nanotechnology, 3D printing, bionics and human enhancement, robotics, wearable technology, biometrics, the Internet of Things, brain-machine interfaces and much more.
Presentation 1: 10am – 10:45am |
Matthew Straub, TSA – "Addressing the User Administration Challenge"
Presentation 2: 11am – 11:45am |
Ciprian "Chip" Sufitchi, NCR WebEOC Support – Everbridge Integration for WebEOC Alerts
Lunch: 12pm – 1pm
Presentation 3: 1:15pm – 2pm |
Mike Cox, ESRI – ArcGIS Online Dashboards
Presentation 4: 2:15pm – 3pm |
Mike Resto, Juvare – Juvare Exchange
Presentation 5: 3:15pm – 4pm |
Tyrone Wells, Prince George's County OEM – PG County Dashboards Integration
Evening Networking Event
Day 2 – Friday, October 18th 2019
Breakfast: 7:30am – 8:30am
Keynote 2: 9:00am – 10am |
MaryAnn E. Tierney – "Emergency Management in a Changing World"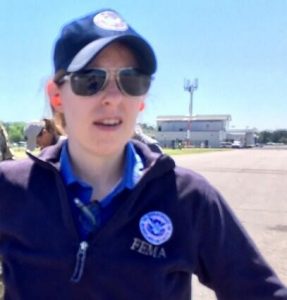 MaryAnn Tierney was appointed Regional Administrator for FEMA Region III in August 2010. She also served concurrently as Acting Regional Administrator in FEMA Region II for ten months following the devastating effects of Hurricane Sandy on New York and New Jersey. From April to June 2017 she served as the Acting Associate Administrator for Mission Support at FEMA Headquarters.
As Regional Administrator, Mrs. Tierney is responsible for leading FEMA's efforts in the mid-Atlantic to ensure communities are resilient against, ready for, can respond to and quickly recover from disasters of all kinds.
Presentation 6: 10:15am – 11:00am |
Kevin Compton & Sarah Keally, NCR WebEOC Support & Fairfax County OEM – Development and Implementation of Mobile Inventory Boards
Presentation 7: 11:15am – 12:00pm |
Courtney Arroyo & Cara Howard, Fairfax County OEM – Shelters Board, Dashboard, and Shelter Finder Tool
Lunch: 12pm – 1pm
Presentation 8: 1:15pm – 2pm |
Wayne Truax, FEMA – FEMA Lifelines Update
Presentation 9: 2:15pm – 3pm |
Sandy Woiak & Matt Marquis, Fairfax County GIS & OEM – Incident Tracking and Analysis with the FFX Situational Awareness Viewer
Presentation 10: 3:15pm – 4pm |
Woody Baker-Cohn, Marin County Sheriff – Showcase of Marin County WebEOC Boards
Send Off/Thank You
There will be time and space for individual and small group breakouts throughout both days.